I'm trying to feed the fam more healthily in addition to lose a few more pounds, and any bread or cookie with fruit or veggies has always qualified as healthy in my book.;) Unfortunately, that doesn't mean that I can inhale the entire loaf of bread just because it contains a zucchini or carrot. Additionally, not all baked goods containing fruits and or veggies are all that healthy for you. Add some butter, sugar, eggs, oil, all that good stuff to the mix and the healthy aspect goes right out the window. I stumbled upon this recipe yesterday when looking for something to do with a few bananas that were past their prime and voila, Healthy Banana Almond Coconut Oatmeal Chocolate Chip Cookies!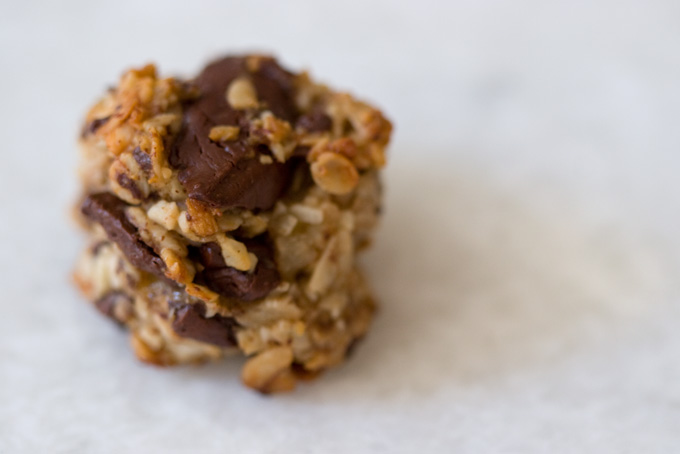 The cookie itself is a bit different from your regular cookie, no egg, no flour, no sugar, but still VERY tasty and it satisfies that need for a baked good without being terribly bad for you. And for my weight watchers buddies, 2 cookies have 3 points. Not bad! Here is the link from the 101 Cookbooks blog, enjoy! And below is the recipe as written in the blog, I substituted olive oil and sweetened coconut, that will be our little secret, k?;)
Nikki's Healthy Cookie Recipe
You can use unsweetened carob, or grain sweetened chocolate chips, or do what I did and chop up 2/3 of a bar of Scharffen berger 70%. I sort-of shaved half the bar with a knife and then cut the rest into bigger chip-sized chunks. You can make your own almond meal by pulsing almonds in a food processor until it is the texture of sand – don't go too far or you'll end up with almond butter. And lastly, the coconut oil works beautifully here, just be sure to warm it a bit – enough that it is no longer solid, which makes it easier to incorporate into the bananas. If you have gluten allergies, seek out GF oats.
3 large, ripe bananas, well mashed (about 1 1/2 cups)
1 teaspoon vanilla extract
1/4 cup coconut oil, barely warm – so it isn't solid (or alternately, olive oil)
2 cups rolled oats
2/3 cup almond meal
1/3 cup coconut, finely shredded & unsweetened
1/2 teaspoon cinnamon
1/2 teaspoon fine grain sea salt
1 teaspoon baking powder
6 – 7 ounces chocolate chips or dark chocolate bar chopped
Preheat oven to 350 degrees, racks in the top third.
In a large bowl combine the bananas, vanilla extract, and coconut oil. Set aside. In another bowl whisk together the oats, almond meal, shredded coconut, cinnamon, salt, and baking powder. Add the dry ingredients to the wet ingredients and stir until combined. Fold in the chocolate chunks/chips.The dough is a bit looser than a standard cookie dough, don't worry about it. Drop dollops of the dough, each about 2 teaspoons in size, an inch apart, onto a parchment (or Silpat) lined baking sheet. Bake for 12 – 14 minutes. I baked these as long as possible without burning the bottoms and they were perfect – just shy of 15 minutes seems to be about right in my oven.
Makes about 3 dozen bite-sized cookies.